Reception Area
We welcome tours of our facility at any time. We believe our "open door" policy (our clients can visit their pet just about any time) and our commitment to client satisfaction and communication sets us apart from the rest.
Christian, our friendly receptionist will greet you and is happy to help you with your appointment scheduling, checking in/out, and prescription refill needs.
Waiting Room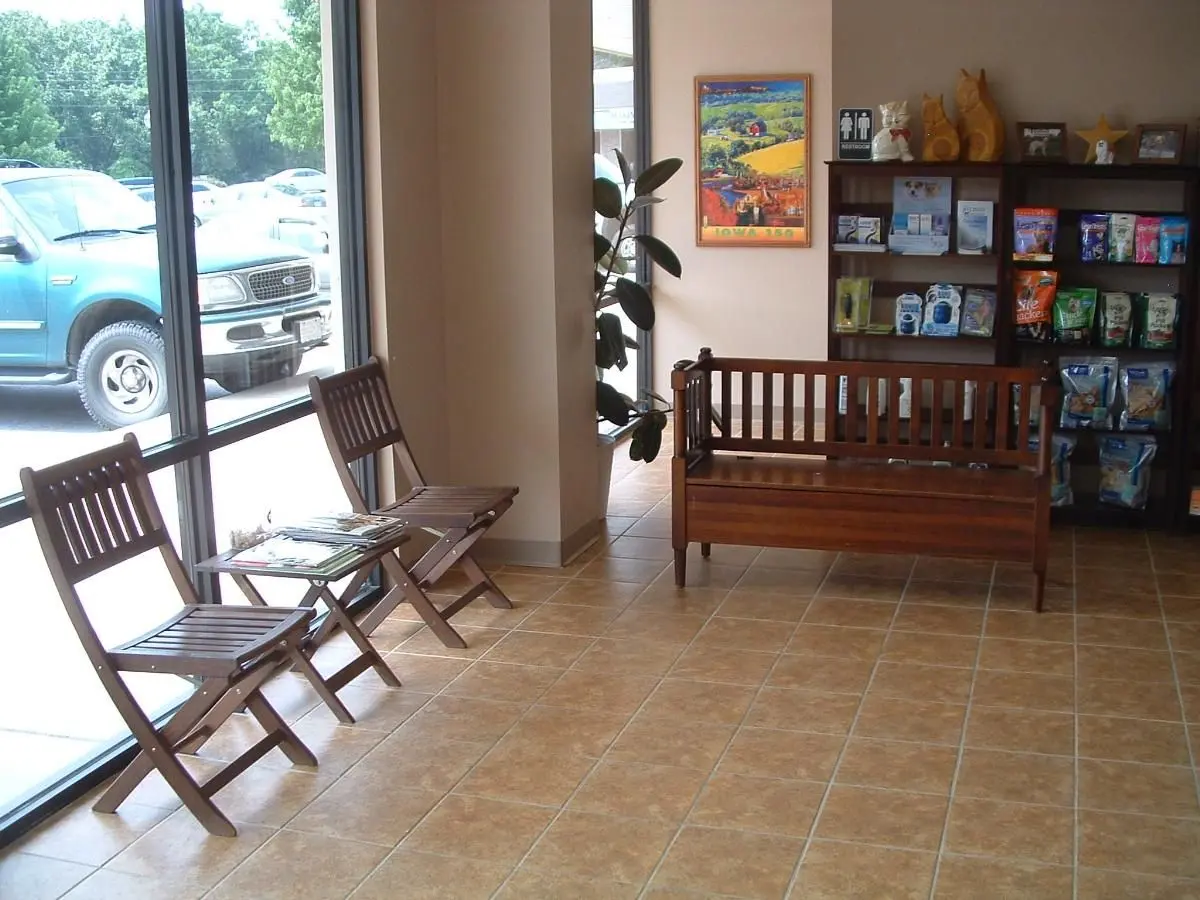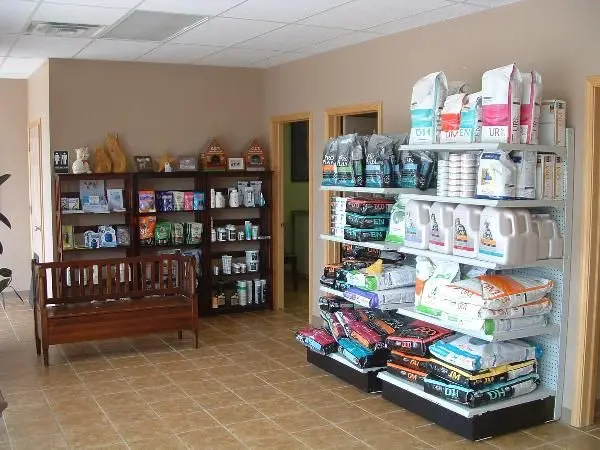 We do our best to minimize wait time in our lobbies and our exam rooms by scheduling appointments. We ask that new clients arrive 15 to 20 minutes early to fill out paperwork . We understand that visits to a veternary office can be stressful for pet owners, as well as patients, and that your time is valuable.
We carry a full line of Purina™ and Royal Canin™ Diet formulas to best fit you pets nutritional needs.
Exam Room
We have two exam rooms that are completely equipped for full physical exams as well as client education. We believe that education is one of our primary responsibilities. We have a large selection of client handouts on almost every subject, anatomical models and other visual aids for various conditions. We are strong believers in preventative care. We strive to show everyone how to provide routine care for their pet including brushing their pets teeth, cleaning their ears, trimming their nails, and any other maintenance things you pet may need.
In-house Laboratory
We have many pieces of sophisticated equipment in our in-house laboratory. We can perform a hematology and organ chemistry panel including electrolytes in just a few minutes as well as many other serological, and microscopic tests.
Our well equipped lab allows us to run preoperative bloodwork and other testing the same day. We also send samples out to one of the largest veterinary labs in the country that has a huge network of specialists to advise us.
Treatment
Out treatment area has a wet table for non-sterile procedures such as dentals, wounds, and routine treatments. We keep all our sick or hospitalized patients, and our surgery recovery patients in here so that we can keep a constant eye on them. Our isolation patients are kept in a room immediately adjacent to the treatment area. Our isolation room is separated from the treatment area by a door with a large glass window so we can easily monitor our isolation patients. We have state-of-the-art equipment including IV fluid pumps, EKG, anesthetic monitors etc.
Surgery
Our surgery suite is well equipped for any surgery. For all anesthetic procedures, we have an EKG, blood pressure, respiratory and pulse oximeter on every patient. Our gas anesthetics are both extremely safe and state-of-the-art.
We believe the key to safe anesthesia is using the best agents, and extremely close monitoring by equipment and personnel.
We have a heated water pad on our surgery table to keep our patients warm so that they recover faster and have less chance of post-operative complications.
Dental Procedures
Dental procedures are performed under anesthesia on both cats and dogs with ultrasonic scaling performed to remove plaque followed by polishing and sealing of the teeth. During the dental procedure the patients vital signs are monitored just as during a surgical procedure.
Radiology
We have a x-ray room equipped with a state-of-the-art digital x-ray machine. Because we obtain digital images there is no waste generated as with the development of x-ray films. Additionally, digital x-rays are immediately ready for viewing and can be easily transmitted via the Internet to specialists for consultation if needed.
Comfort Room
Our client comfort room has multiple purposes and provides a warm, home-like atmosphere for our patients. Acupuncture, laser therapy, client consultations and surgery releases are just a few of the many uses of the room. The room also provides our clients with a quiet, comfortable place to be with their life-long friend when the day comes to say goodbye.